SD GUNDAM CROSS SILHOUETTE NIGHTINGALE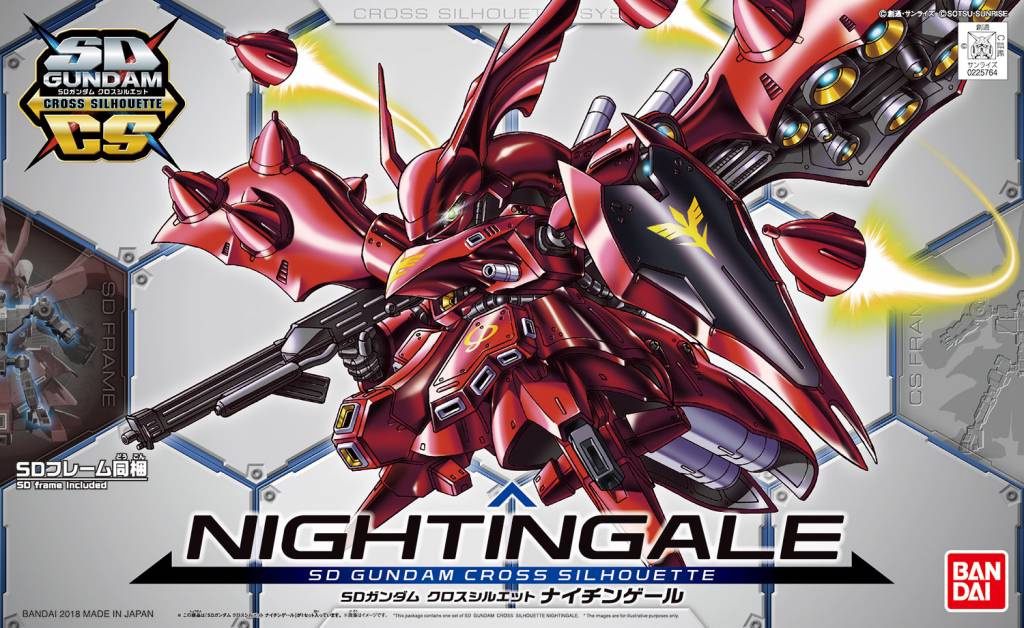 SD GUNDAM CROSS SILHOUETTE NIGHTINGALE
SD GUNDAM CROSS SILHOUETTE NIGHTINGALE
This is a posable, high-grade or better injection-plastic kit of an item from the Gundam universe.
A new generation of SD Gundam kits is here!
The SD Gundam Cross Silhouette series allows you to choose between two different inner frames that will change the proportions of your kits.
You can choose between the cuter look of the SD (Super Deformed) frame, or the taller and more action-packed look of the CS (Cross Silhouette) frame!
You can choose to assemble this kit of the distinctive Nightingale from "Mobile Suit Gundam: Char's Counterattack--Beltochika's Children" in its Super Deformed or Cross Silhouette style!
It's molded in color so painting is not necessary, and assembly is easy.
Marking stickers and its weaponry are included.
(Note: Please be aware that this kit does not include the Cross Silhouette frame, which is sold separately.)
Release Date:Jun 2018
Series:SD Gundam
Item Size/Weight:31.0cm x 19.0cm x 8.2cm / 320g
Manufacturer:Bandai
EAN 4549660257646
Please Note:The products shown in photos have been professionally painted.
Color swatches are for informational purposes only and may differ from the actual merchandise.
Colors on your screen are also affected by monitor settings and browser